Articulating Boom Lift "GTZZ15"
TAGS :
Category :
Detail :
Name : Articulating Boom Lift
Series : GTZZ15
Price : Contact us

Description :
Used in situations where longer reach is needed such as construction sites, industries, and building/storage structural systems
GTZZ15
With a greater horizontal reach and gradeability than the majority of competitors, this is a fast and flexible diesel articulating boom lift with a great span height. Articulating booms in general are ideal for more complicated working environments, thanks to their multi-folding design. The boom itself is made of high strength steel to reduce weight and improve security. Automatic leveling by hydraulic system is safer and more reliable, avoiding the danger of leveling failure caused by electrical error. Excellent gradeability for its type means access to a wider range of sites.
FEATURES:
1) Strong loading capacity of 250kg
2) Horizontal reach of 7.62m is greater than any competitor at time of writing (2017)
3) Great grade ability - 30% for 2WD is higher than any other brand in China at time of writing (2017)
4) Generous driving speed at max 7Km/h

คลาส

รุ่น

สเปค

Platform height max.

Working height max.

Lift capacity

SINOBOOM ARTICULATING BOOM LIFT

GTZZ15

14.8 m.

16.8 m.

250 Kg.
Model GTZZ15
Dimensions
Platform height max. 48.55 ft (14.8 m)
Working height max. 55.11 ft (16.8 m)
Horizontal reach max. 25 ft (7.62 m)
Up and over clearance max. ft in (m)
Length - stowed 18.70 ft (5.70 m)
Width – stowed 7.41 ft (2.26 m)
Height – stowed 7.28 ft (2.22 m)
Wheelbase 6.66 ft (2.03 m)
Ground clearance 1.04 ft (0.32 m)
Platform size (L*W*H) 4.75 ft*2.82 ft*3.70 ft
(1.45 m*0.85 m*1.13 m)
Productivity
Max. platform occupancy -
Lift capacity 551 lbs (250 kg)
Turntable rotation 355°
Platform rotation 160°
Drive speed - stowed 0~4.34 mph (0~7 km/h)
Drive speed - raised 0~0.68 mph (0~1.1 km/h)
Gradeability 30% (2WD), 40% (4WD)
Turning radius - inside 5.90 ft (1.8 m)
Turning radius - outside 14.76 ft (4.5 m)
Turntable tailswing 0 ft (0 m)
Max. allowable slope 3°
Drive & steer model 2WDx2WS / 4WDx2WS
Tire size / type 33x12-20/solid
Power
Power source Diesel
Driving Type
Hydraulic system capacity 140L
Battery specification
Weight
Overall weight 15653 lbs (7100 kg) (2WD),
16094 lbs (7300 kg) (4WD)
Standards Compliance CE/ ISO/ ADR/ ARAMCO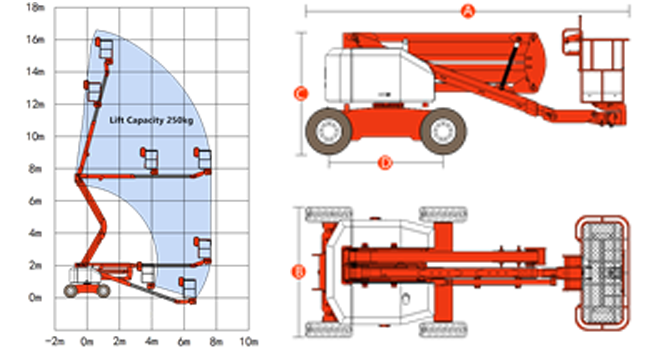 SIAM INDUSTRIAL CORPORATION LIMITED (SINOBOOMLIFT)