Telescopic Boom Lift "GTBZ30"
TAGS :
Category :
Detail :
Name : Telescopic Boom Lift
Series : GTBZ30
Price : Contact us

Description :
Used in situations where longer reach is needed such as construction sites, industries, and building/storage structural systems
GTBZ30
With one of the greatest horizontal reaches in the MEWP industry, this diesel telescopic boom lift offers industry leading, practical performance. Hydraulic cylinders control boom extension, with scalable extension and retraction chain.
The telescopic cylinder and chain can be removed from the boom for added convenience and portability, all within 2 hours and with no need to disassemble the arm. Strong gradeability and loadbearing make for all-round excellent performance.
FEATURES:
1) Strong load capacity at max loading weight of 480kg (restricted)
2) Large working range and strong gradeability
3) Generous max driving speed
4) Simple and reliable machine, for easy maintenance

คลาส

รุ่น

สเปค

Platform height max.

Working height max.

Lift capacity

SINOBOOM TELESCOPIC BOOM LIFT

GTBZ30

30.4 m.

32.4 m.

340 Kg.
Model GTBZ30
Dimensions
Platform height max. 99.73 ft (30.4 m)
Working height max. 106.29 ft (32.4 m)
Horizontal reach max. 73.16 ft (22.3 m)
Up and over clearance max. ft in (m)
Length - stowed 42.65 ft (13 m)
Width - stowed 8.16 ft (2.49 m)
Height - stowed 10.10 ft (3.08 m)
Wheelbase 12 ft (3.66 m)
Ground clearance 1.476 ft (0.43 m)
Platform size (L*W*H) 6 ft*2.49 ft*3.60 ft
(1.83 m*0.76 m*1.1 m)
Productivity
Max. platform occupancy -
Lift capacity 749 lbs (340 kg)
Turntable rotation 360° continuous
Platform rotation 160°
Drive speed - stowed 0~2.73 mph (0~4.4 km/h)
Drive speed - raised 0~0.68 mph (0~1.1 km/h)
Gradeability 42%
Turning radius - inside 8.39 ft (2.56 m)
Turning radius - outside 18.27 ft (5.57 m)
Turntable tailswing 5.97 ft (1.82 m)
Max. allowable slope 3°
Drive & steer model 4WDx2WS
Tire size / type 12.00-20/solid
Power
Power source
Driving Type Diesel
Hydraulic system capacity
Battery specification 12V DC
Weight
Overall weight 41160 lbs (18670 kg)
Standards Compliance CE/ ISO/ ADR/ ARAMCO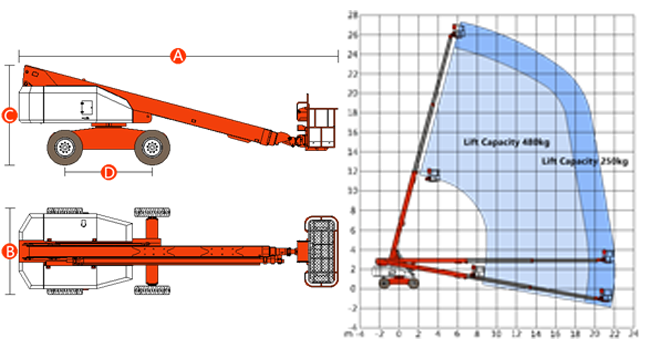 SIAM INDUSTRIAL CORPORATION LIMITED (SINOBOOMLIFT)